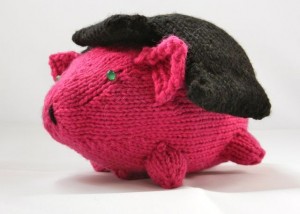 The patterns for the pig and all the wigs are from Knitting Mochi Mochi by Anna Hrachovec. The knitting of the soft circuit pig was largely unaltered from the original pattern. The main adaptation was that I needed to access the inside of the pig. The original pattern knits the pig from tail to snout and stuffs the pig before casting off and closing up the body. I added an opening and a flap to the underside of the pig by working the body flat instead of in the round for the section between the increases and decreases. I cast on 5 stitches at the end of the row and cast them off again before joining the body in the round and continuing on to the head. This gave me a flap so sew snaps to create a clean closure.
For the wigs, I knit them as the pattern described with the mohawk as the exception. I used Fun Fur (just horrible stuff to knit with) for the mohawk and shortened the sides of the wig by a couple rows (mostly because I was running out of time and Christmas was quickly approaching).
The wigs needed to pass electricity, so I sewed the male end of a snap to a wig using conductive thread. On the back side of the snap I sewed stripped wire which ran to the other snap. I did this after knitting each wig, but before sewing them up and stuffing them.
That wraps up the documentation for my singing pig. It was certainly a successful Christmas present and a pretty effective toy. Next versions will definitely move towards more robust circuits. I'm thinking the next project will be further modifications of more Mochi Mochi – perhaps a step sequencer moose.