This past Saturday I attended a hack day hosted by Moving Brands (#MBInkHack on Twitter). The hack centered around working with Bare Conductive's Electric Paint (which is often referred to as the misnomer conductive ink). After accepting the invitation I was incredibly excited to learn that we would also get to try out the Touch Board – Bare Conductive's new product not due to ship until March.
The hack day started at 10am and we were in the pub by 5pm. Certainly the shortest hack day I've attended. It was only 4 hours of actual hacking, but the results were amazing. You couldn't fool yourself into thinking you could accomplish anything huge and everything was physical. It was so refreshing to not have a single website developed and presented at the end of the hack.
I worked with Ben Fields and Alan Waldock. Emilie Giles joined us around midday and was trooper working through a cold brought on by London's change of seasons. Our concept was to create an instrument out of a paint roller where you roll the paint roller over a score to play the music. Like a physical audio scrubber. We had hopes of implementing a copper tape and brush rotary system to actually allow the roller to freely rotate, but that just wasn't feasible in our limited time. We instead painted conductive paths with Electric Paint using a stencil Al created.
The Touch Board has onboard capabilities to be a MIDI instrument and handle capacitive touch sensing all programmable from the Arduino toolchain. Â We had 12 stripes of paint each hooked up to a capacitive input which triggered a MIDI piano note. Â The board has an amp and direct audio out along with a connector for a LiPo and built-in charger, so the whole thing was entirely wireless. Â We plugged in a little portable speaker and a LiPo and we had "music".
There was a lot of video and photos taken with some quite expensive cameras, but that's not released yet. So here are some photos from phones.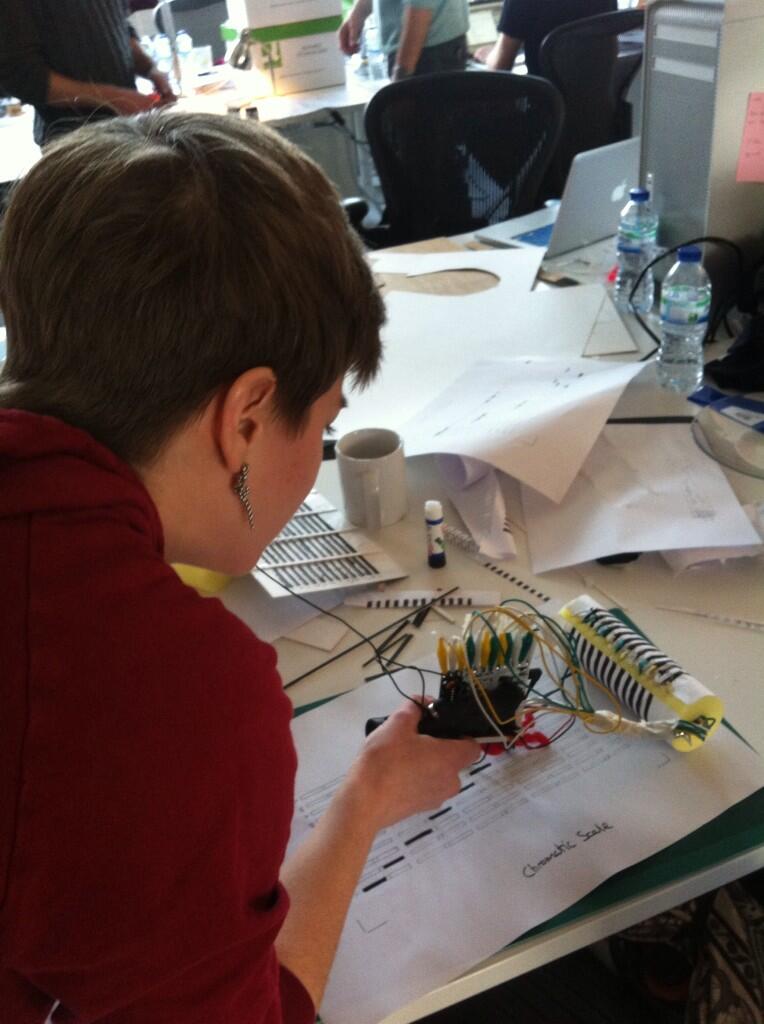 There were 7 groups of 3-4 people. Â All of the resulting hacks were amazing and are easier to explain via video and photos rather than awkward text, so I'll update this post when videos are put up online.
I'm just so impressed by the thought behind the board. Â There is nothing shiny and brand new on it; it's a bit of a Frankenstein's monster of various open source projects. Â But it's all put together with so much consideration. Â It fits beautifully within existing open source hardware projects, which Nick Ludlam (CTO of BERG) noted when he brought along BERG's Devshield. Â He popped it on the Touch Board and both played nicely with each other right away.
I can happily confirm our @bergcloud Devshield works beautifully with the @BareConductive Touchboard pic.twitter.com/tKsxDM3L7l

— Nick Ludlam (@nickludlam) November 16, 2013
Thank you to Moving Brands for putting on the event and thank you to Bare Conductive for being brave enough to let a room of designers and devs loose with your still beta tech!
Update!
Below is a short video documenting the day!

Ink Hack! from Moving Brands® on Vimeo.