This is a rather late report of the E-Textile Summer Camp 2015 as it ended many months ago, but it's a post that has been on my to-do list and I didn't want to completely abandon it.
This past July/August, around 35 experts in e-textiles/smart materials gathered at Paillard Centre d'Art Contemporain & Résidence d'Artistes in Poncé sur le Loir, France. This was the second time I attended the camp, and even though I knew largely what to expect, still came away amazed at how much I learned.
The format this year differed from past ones. We arranged ourselves into groups a month or so before arriving at camp in order to coordinate and prepare for digging deeper into chosen topics. I joined the Industrialization Focus Group.
Start of the Week
The week started off with a few workshops. I attended Mili's and learned the resist-dying technique batik.
We also constructed the Swatch Books for the 2015 Swatch Exchange. This year's was a record-breaking thickness due to the quantity and the size of some of the swatches.
I adapted my Solo Disco Scarf workshop into swatch form. There are more details about my swatch on it's Swatch Exchange page.
The Exhibition
The beginning of the week is also when the exhibition is set up. Everyone brings a piece to show their practice to the other campers and also to the general public. The full exhibition is documented on the summer camp site.
Evening Projects
While the bulk of the days were spent working in our focus groups on our chosen topics, everyone had side projects in the evening. Well, almost everyone. I think the machine knitters never stopped knitting regardless of the time of day.
Aniela brought her rigid heddle loom along to camp and very kindly allowed me to weave on the warp she had set up.
It was the first time I wove on anything other than a toy loom and I loved it. I even incorporated fibre optics using a technique Sara uses.
We were also asked to bring a book to leave in the main common space for the week to act as a camp library. I wrote up a list of all the books.
Focus Groups
There were seven focus groups. Two of the groups focused on pushing the boundaries of a very particular topic – knitting and printing – while the others looked at broader topics. The week ended with 7 one hour activities, each planned by each group to teach/demonstrate to the whole camp what they had worked. This is only a taste here, certainly visit the summer camp site for more in-depth documentation.
Knitting Electronics
One my favourite outputs of the knitting electronics group was the demonstration of a 3D printed IC holder for integrating a SOIC package into a knit circuit. Jussi had developed it and printed it at his university before coming to camp.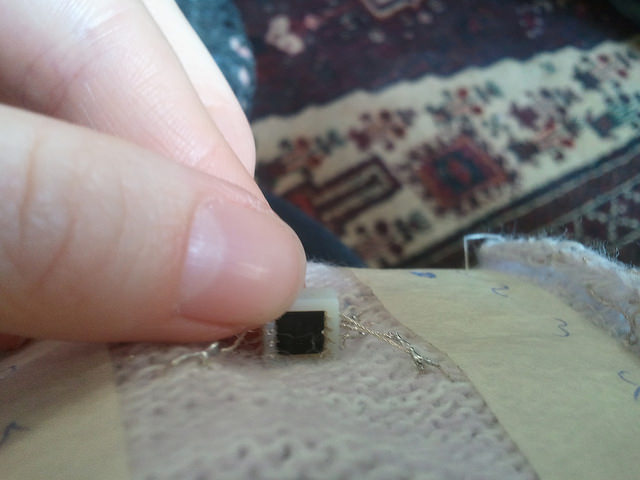 Printing
The printing group combined media with 3D printing and screen printing thermo/photochromic inks onto the same substrate.
Go Small Go Wireless
This group had the best illustrations for explaining networking protocols that I think I've ever seen.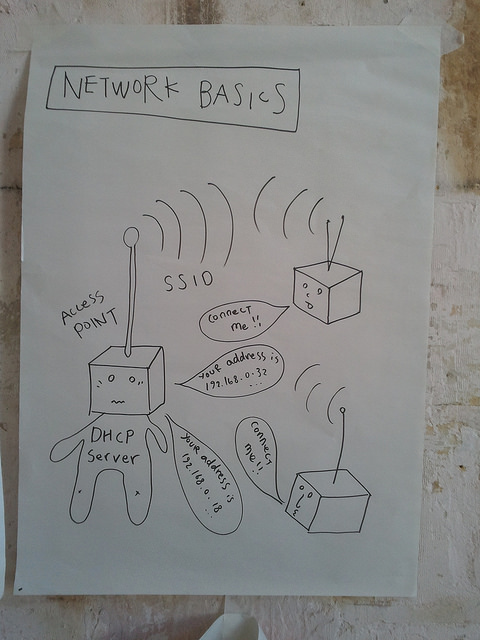 They experimented with the ESP8266 wifi modules. I didn't know them before camp, but have since started playing around with the chips myself.
Educational Toolkits
The group activity started with some games outside. I thought the sorting algorithm game was particularly fun.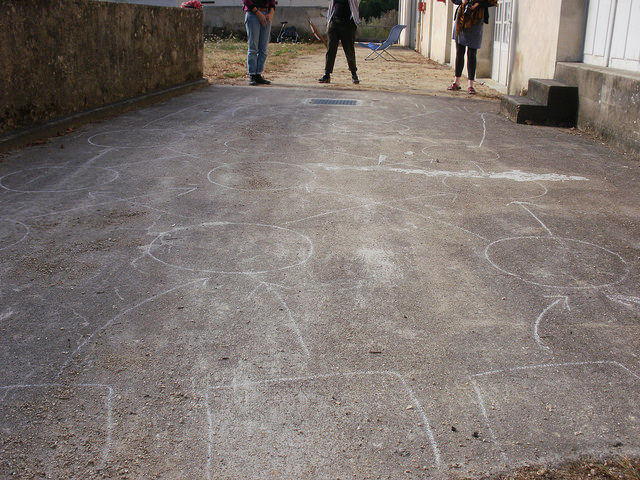 Inside they demonstrated the e-textile teaching platform they had been developing.
Tools for Practitioners
The output from this group was genius and left me wanting to build my own tools as well, though several months on that hasn't happened…
Make Your Tech and Wear It Too?
This was one of the larger groups, so it broke up into smaller working groups. To bring it all together in a cohesive way, they created an exhibition of the future artefacts of the present.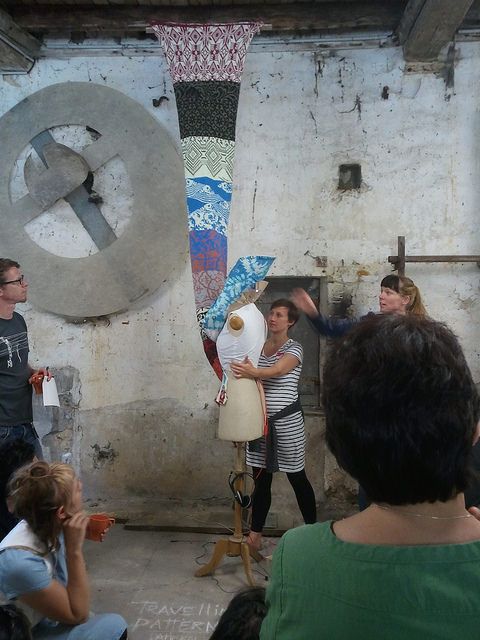 Industrialization
This the group I took part in. I have been increasingly interested in how both electronics and textiles are manufactured on a mass level. I was much more familiar with electronics going into camp, but was excited as Mili works for a large textile manufacturer in India, Ebru has toured a number of factories in Europe, and Tincuta's PhD research looked at how e-textiles shapes labour the aesthetics of electronic textiles from the perspective of philosophy of technology (Ed: my apologies to Tincuta for misrepresenting her research!).
We iterated several times over the week trying to list out the major processes that electronics and textiles go through from raw material to product. That is a huge task and we certainly didn't cover everything.
We then tried to identify process/machines/tools that could be repurposed from the electronics or textiles manufacturing world and used as a crossover, so that electronics and textiles manufacturing could be brought into the same physical space.
Our broadest conclusion was that electronics should be modified so that they can be used within standard textile machines. This is already being done as we had samples of LED sequins donated to camp.
To break away from the Post-Its and flip chart paper, we tried making a couple of the concepts. They weren't ideas we had before camp, so we had to make do with whatever materials we had on hand. The first was solder beads – beads of solder that could be automatically placed on a textile with a machine, and then used to create an electrical connection at a later manufacturing stage.
The second was an idea that was inspired by Mili's batik workshop earlier in the week. We discussed that an ideal, but not yet existing material would be conductive thread that was selectively insulated so that it wouldn't cause short circuits. I combined what I learned from batik techniques with ikat dying techniques to apply batik wax to solderable conductive thread. I then applied silicone to the thread, and could peel away the silicone applied over the wax and iron away any traces of wax. It certainly did not result in a usable thread, but was an interesting exercise.
More Photos
That was the bulk of the activity, but there were also walks into the French village surrounding Paillard and a trip to the winery next door. Here are the rest of my photos:

And you can find more from the other participants on the camp site.